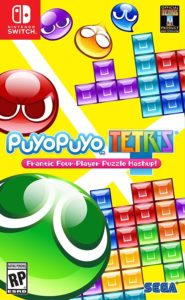 Puyo Puyo Tetris Game Details
Game Name :
Puyo Puyo Tetris
Release Date :
05/31/2017
Publisher :
Sega
Developer :
Sega
Official Game Website :
Genre :
Puzzle
Players :
1 - 4 Players
System :
Nintendo Switch
Also On :
PlayStation 4
Review Score :
N/A
---
MSRP :
$39.99
UPC :
010086770025
ASIN :
B01MT8L7BX
Puyo Puyo Tetris - Game Description
Puyo Puyo Tetris was published for the Nintendo Switch on 05/31/2017. Developed by Sega, Puyo Puyo Tetris is a 1 - 4 Players video game, and is rated E (Everyone) by the ESRB.
Official Game Description
GAME DETAILS
Two puzzle game juggernauts collide as Tetris®, one of the largest-selling and recognized brands in gaming history, and Puyo Puyo™ from SEGA have combined to create a fun-to-play, fast-paced, competitive party game like no other! The game has tons of different styles of gameplay – from the single-player Adventure and Challenge modes to the ferocious competition of the up-to-four player Arcade modes. There's plenty of Tetris/Puyo variety, even an in-game Shop where players can unlock new characters, new skins for Puyos and Tetriminos, new backgrounds and more.
Features:
Adventure – Single-player mode offers ten unique acts, each with ten stages featuring different characters from the Puyo Puyo and Tetris universes. Each stage contains unique challenges players will need to overcome in order to win and move on!
Multiplayer Arcade – For up to four local players, Multiplayer Arcade offers a wealth of variety that will bring out players' competitive nature!
Online – Players can try their puzzle skills on a global scale by playing any of the multiplayer modes with up to four players online, in Puzzle League or Free Play modes.
Solo Arcade – Play any of the Multiplayer Arcade modes against the CPU in Battle or Endurance matches, or try the single-player Challenges!
Puyo Puyo Tetris Screenshots :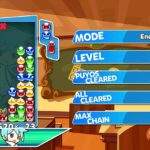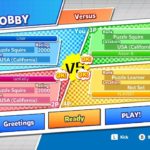 Puyo Puyo Tetris Trailers & Videos
Puyo Puyo Tetris Screenshot / Photo Gallery
Puyo Puyo Tetris Walkthroughs & Cheats
Puyo Puyo Tetris DLC (Digital Download Content) Content
---
Related Articles For Puyo Puyo Tetris
Puyo Puyo Tetris Nintendo Switch Release Date

---
---